| | |
| --- | --- |
| Brand | Amho |
| Model Number | XYLP |
| Material | Carbon steel |
| Available Color | Black,white,red,grey,yellow. |
| MOQ | 1 |
| QEM service | Can be customized |
| Packing | Plywood case |
| Payments | Western union, Money gram, Paypal,,Wire transfer. |
| Shipping |  By sea.By air |
| Delivery time | Within 15working days after your payment. |
| WeightDimension:Application: | Non-standardCustomer requestCNC machine |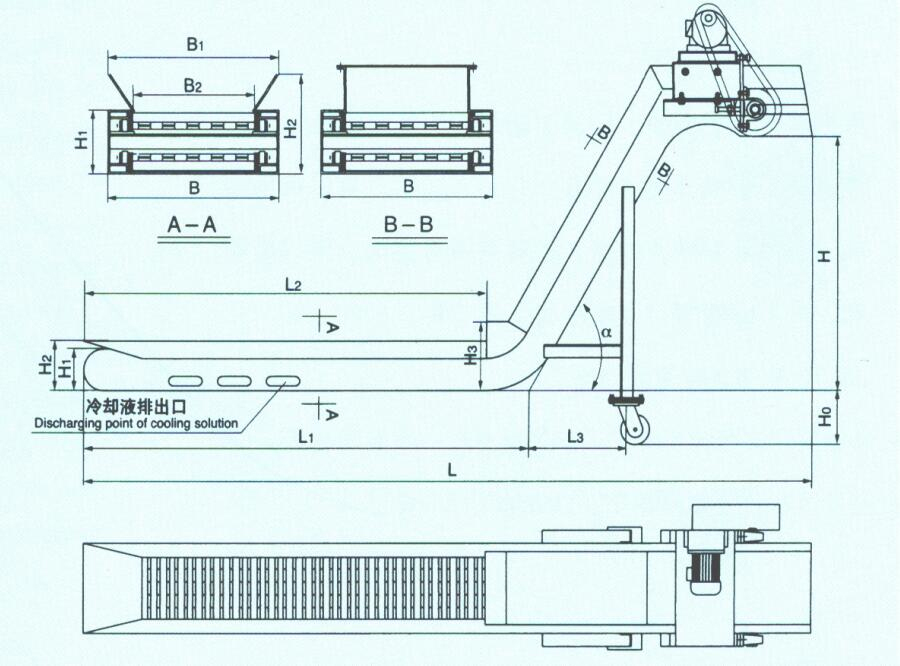 Main Technical Parameters

Code

L1

B

B1

B2

H

α

Name

Horizontal

length

Overall width

Collecting width

Effective width

Lifting

height

Lifting angle

Size

0~ 60°

Auxiliary Technical Parameters

Code

H1

H2

L

L2

L3

P

Name

Shell height

Overall height

Total length

Collecting length

Supporting leg distance

Motor power

Size
Note
(1)Motor power can be determined by the effective width of B2,L1 and lifting height H.
(2)If the pitch of the chain plate is different,the height of H1 shall be different as well.
Pitch 31.75mm.Min.height of H1 is 100mm.
Pitch 38.1mm Min,height of H1 is 135mm.
Pitch 50.8mm Min.height of H1 is 180mm.
Pitch 63.5mm Min height of H1 is 230mm.
Pitch 101.6mm Min height of H1 is 260mm.
(3)The overall dimensions of the water tank can be made in different appearances according to the client requirement.
(4)It can be designed and fabricated according to the client requirements.
Description
It is mainly used to collect and transport all kinds of roll shape, mass, strip and block chips. It is widely used in CNC machine tool, machining center and flexible production line. It is also can be used as a conveyor for small parts in punch and cold forging.it is an important function unit in the cooling systems for the combined machine tools. This device can improve the operating environment, reduce labor intensity, improve the degree of automation.
There is a mechanical overload protection device at the main axis. When the scraper chain is stuck with large objects, overload can slip, to protect the drive motor.
Long-line hinged belt chip conveyor is mainly used for conveying chips in Longmen CNC milling machine and long-line boring machine.
How to select
Generally speaking, there are four kinds of chain plate pitch,31.75mm,38.1mm,58.8mm and 63.5mm.In special conditions, you can choose the 101.6 large pitch conveying chain .Chain plate can be divided into carbon steel and SS304 stainless steel. The size is decided by the customers. If you want to choose the hinged belt chip conveyor, you can just offer us the length, L and L1,or L2,horizontal height H, the width B1 or B. Usually the angle is 60°,in special condition the angle can be made by 30°or 45°.
Maintenance table
Compontent

Interval

Action

Remark

Hinge plate

3 months

Check tension and tighten if necessary

3 months

Check for damage

Replace demaged parts

Electrical element

-Motor

See operation manual

-Wiring

3 months

Check for ruptures and damage

Replace  defective wiring

-Level switch

3 months

Check function

Exceed both switch points by manual actuation

-Propective gear

3 months

Check function

Pumps

See operation manual

Container

6 months

Check for leak,damage,and corrision

6 months

Check stablity

Container must be safely

Check guide rails for wear,

Check when changing hinge plate